Manchester Temp of the Month – June 2012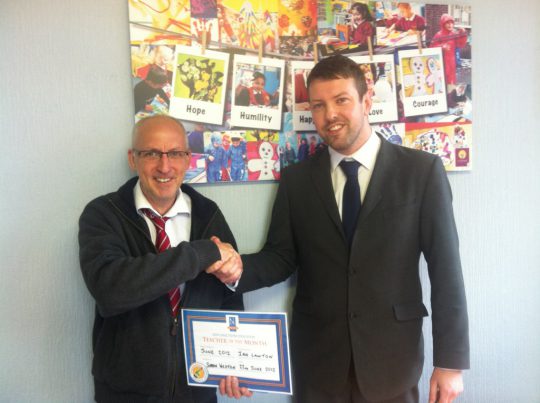 Simon Weston, our dedicated primary consultant, presented Ian Lawton, a Primary Teacher, with the award for temp of the month, along with a box of Roses chocolates. Ian was extremely happy with this fantastic achievement and was completely surprised. Simon Weston thanked him for all his hard work he has done at the school on behalf of New Directions Education.
Miss Abi Wright (Deputy Head) said, "Ian is a complete professional and a pleasure to work with. I rate him highly as a teacher, all the children and staff at the school really like him. He is a very pleasant gentleman and adapts brilliantly to anything that he is asked to do."
Simon Weston commented, "Ian is always requested back at our schools and has always received outstanding feedback. He is very polite, professional, hard working and extremely reliable. He is a fine example of the high standard of teachers New Directions can offer to many schools."
Congratulations to ST Thome C. of E. Halliwell School
The school has been recognised out of 500 as one of fifteen schools to receive "special commendation" for their work as a church school.
Deputy head Miss Abi Wright is attending an award ceremony in London on Thursday 28th June. Well done to all at St Thomas C of E Halliwell school.
‹ Previous article
Next article ›