November 2012 Employee Of The Month – Birmingham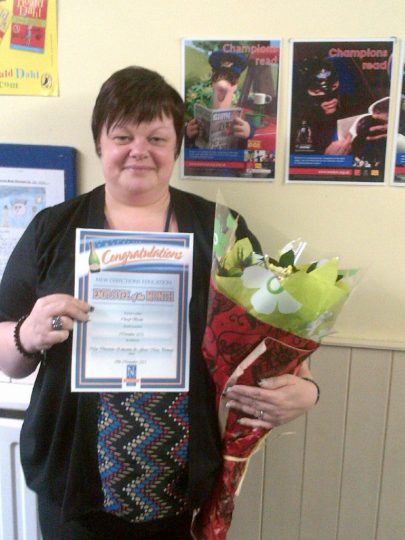 Congratulations and well done to Cheryl who was recommended by staff at Grace Mary Primary School to receive employee of the month award for hard work over the past term. Shevonne Wilson Cheryl's consultant presented her with an employee of the month certificate and a bouquet of flowers in front of the year 5 class that she works with.
Shevonne commented 'It was really nice giving Cheryl with her reward, she was not expecting to see me, and when her lesson was paused by the school Headteacher, Cheryl looked at me and quickly looked away. I gave Cheryl with her certificate and her bouquet of flowers and thanked her for her hard work and loyalty to the school; this was then closed with an applause from all pupils in class which showed me how much Cheryl is loved and appreciated by the pupils. As well as the school nominating Cheryl, other candidates that have worked alongside her have come back to me with feedback that she always makes them feel welcome and always introduces herself and sings the praises of the school and how pleasant it is working there. Well done Cheryl you really deserved this nomination.'
School Headteacher – Miss Stride said 'Cheryl is a hard worker, and has become part of the team, all staff and pupils enjoy working with her. Cheryl is aware of what is expected from her and always goes that extra mile when she is in school.'
Cheryl Commented 'That it was great that she was nominated for the employee of the month reward, it was totally unexpected and was a big shock to her and has said a big thank you to Grace Mary for having her.'
Shevonne would also like to say Thank you to staff at Grace Mary Primary who were aware that she was coming in to present Cheryl with her award, and put time aside to be present when presenting the award to Cheryl.
Well Done Cheryl from New Directions Birmingham.
‹ Previous article
Next article ›