Ensuring Education in North Wales is all set for September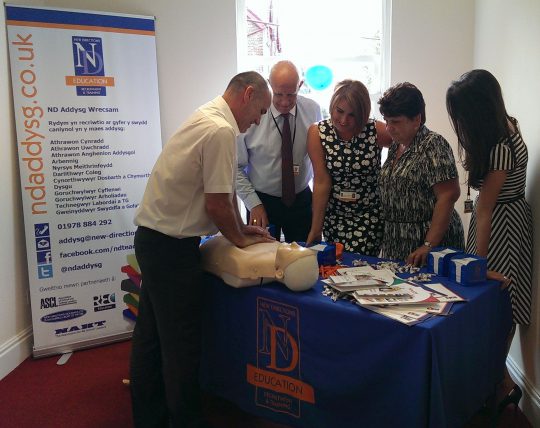 A leading Welsh supply teaching agency has held an open day for education personnel to register their interest in work for September 2013. New Directions Education, based in Wrexham has opened their doors to talk about vacancies for the 2013-2014 academic year to a flurry of applicants.
Jenna Whittam, Branch Manager for the team spoke about the event 'every year we receive record bookings for supply staff in September. Schools and colleges across North Wales get in touch with our team, as the preferred supplier to the education sector in Wales, with short and long-term bookings. We want to be fully prepared to reassure schools that we can help with any gaps in their staffing needs.
We have met some wonderful new candidates over the course of the day from an Assistant Head Teacher and Special Educational Needs (SEN) professionals to subject specialist teaching staff.'
New Directions Education has partnered schools across Wales since 1999 for recruitment and training solutions. The Wrexham team was the third office to open for the business in Wales and has fast become one of the most successful in the UK.
The team offer a Welsh language medium service for schools, which now accounts for 10% of the revenue for the business, as well as an in-house training team to ensure staff within the industry are fully up-to-date with mandatory training.
Steve Shepherd, Senior Trainer (pictured) for New Directions attended the event to speak about the type of training the team can deliver to schools across Wales. Steve commented 'since we established New Directions Training almost four years ago, we have been inundated with enquiries from schools about training for their staff. Today was a great opportunity for me to meet some of our supply staff of the future and highlight what we can offer in terms of continuous professional development. We want to make education staff in North Wales 100% employable. We deliver courses from pediatric first aid to food hygiene, as well as a host of soft skills to enhance candidates' experience'.
The open day also included discussions from New Directions Group Communications Manager, Ruth Dalton who warned of the perils of over sharing on social media, and former head teacher Rob Ratcliffe, now Business Development Officer for the team about the importance of paying attention to job applications.
New Directions Education will continue to provide a series of open days and support seminars for staff across North Wales throughout the summer. For more information contact the team on 01978 884290.
‹ Previous article
Next article ›