Employee of the Month – March 2014 – Well Done Gillian McKay!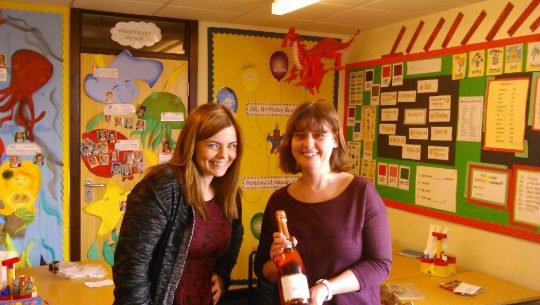 New Directions Education in Wrexham would like to congratulate Gillian McKay, who has been awarded "Employee of the Month" for her outstanding performance during the month of March.  Gillian was nominated because she is extremely reliable, hard-working and popular with Staff and Children.  Shelley Nicholls, Account Manager at New Directions Education in Wrexham was pleased to hear that Gillian had been nominated and commented "Gillian is extremely hard working and always gives her best, we consistently receive positive feedback from the schools she has worked at."
This week Gillian was working in Hawarden Village Primary School, where Dan and Shelley from New Directions Education surprised her with the award and a bottle of champagne. The school thought it would be nice for it to be presented in front of the children before they went on their break.
‹ Previous article
Next article ›