March Employee of the Month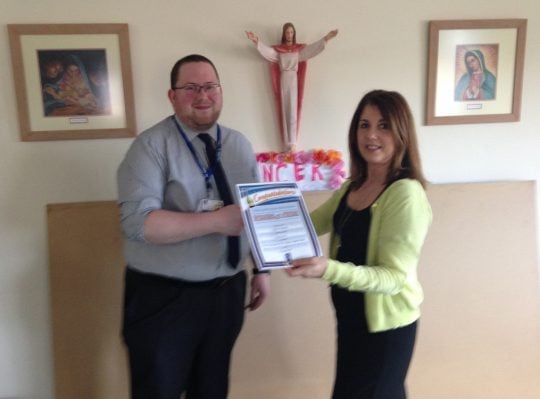 Once again we have had another bumper month of nominations for our Employee of the Month competition.  We had a very tough job of discussing all the fantastic nominations to determine this months winner.  However, there was one nominee who stood out as they had been nominated multiple times over the past few months.
Robert Walmsley has been nominated by several schools he has worked at, Robert was nominated again in March by St Mary's Catholic College.  When Kim Adair the cover contact at St Mary's heard that Robert had been chosen as the winner for March she commented, "since the first day Rob walked into the school I have had nothing but good reports about his teaching abilities. Rob has a firm but fair approach to classroom management which instantly gained respect from colleagues and pupils alike.  Nothing is too much trouble for Rob and he will always go the extra mile, I am extremely pleased Rob has won employee of the month".
Sean Peloe, Account Manager at New Directions Education added, "Rob clearly has the qualities that make an excellent teacher, this is evident in not only the nominations he has received but also the positive feedback we receive on a regular basis. Rob's passion for other people's learning shines through and this is what is reflected in the feedback received from schools he has taught at. I am extremely pleased Rob has been named employee of the month for March, a well deserved accolade"
Nominations are incredibly important to us as the feedback we receive about our teachers and support staff is paramount in us ensuring that we continue to meet both the need and expectations from the schools we work with and also our candidates.  We would  like to thank all the schools that took part in this month's award and also thank all our candidates who work incredibly hard and are being nominated by many of the school we work alongside.  Maybe next month will be your opportunity to shine!
‹ Previous article
Next article ›