Welcome to New Directions
Our NQT Support Programme will provide you with a designated NQT Consultant. Their role is to work with you and your account manager, to secure you your perfect teaching job, support your CPD (Continuous Professional Development) and help guide you through completing your induction period whilst on supply.
Having been an integral part of the education sector for 25 years, we have built strong relationships with schools. We look to offer the widest choice of primary and secondary schools across Wales and the North West.
We understand that everyone is different, and that your ethos, teaching style and desired school are unique. We pride ourselves in getting to know everyone individually to ensure you are suitably placed.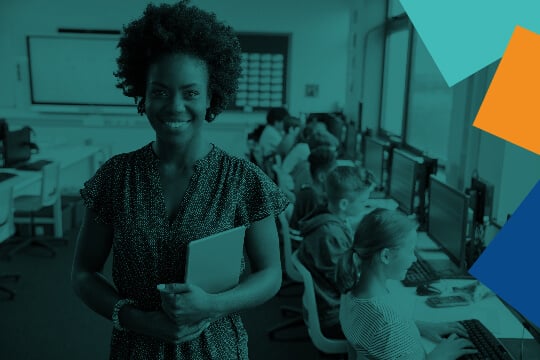 What can we offer our Newly Qualified Teachers?
Designated Point of Contact – You will have an NQT Consultant and Account Manager who will get to know you and support you through your induction period whilst on supply
Regular Work – As the number one agency in Wales and the West, we regularly have over 4,000 education staff out working in our schools each week
Free CPD (Continuous Professional Development) –  Our NQT Support Programme allows you the opportunity to access a suite of online free training, industry expert webinar and seminars, and the opportunity to attend accredited training such as Behavioural Management, Mental Health First Aid for Children and Mindfulness & Wellbeing
Work in local schools – We have offices across the whole of Wales and the West. We have a designated account manager for each local authority who have built relationships with their schools, to be able to offer you jobs in your local area
Flexibility – You can manage your own diary and update us with your availability via your account manager or your online web portal. There is no commitment to the amount of days you need to be available, or the days you need to work. We will work with you and your availability
Competitive Rates of Pay – We are a supplier of choice for the Welsh Government, having been awarded a framework agreement by the National Procurement Service. You can be confident that we will offer competitive rates of pay and pay parity
Refer a Friend Bonus – If you recommend anyone to register with us, once they work 20 days, we will give you £250 as a thank you
Online Web Portal – This allows you to view your bookings, timesheets, payslips, and availability online which is all completely hassle free
Annual NQT Event with Industry Experts – We hold an annual NQT Event, where industry experts offer bitesize sessions on their knowledge of the sector, as well as a Q&A to offer you the opportunity to ask them any questions you may have
Add your CV
Register online, add your CV, and start looking for tailored vacancies in your area
Register with us