Job opportunities available to support children from Ukraine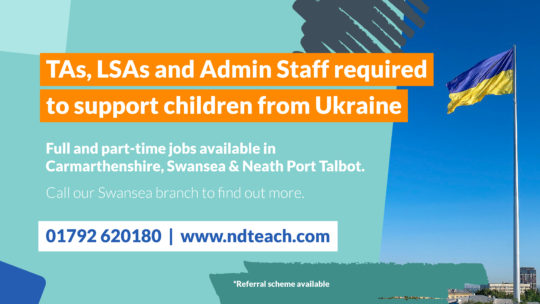 With thousands of Ukrainian families relocating here in Wales, a number of centres are being put together around the country to ensure the children of Ukraine can get the best start to their education as possible.
We therefore have various job opportunities available in Carmarthenshire, Swansea, and Neath Port Talbot.
Call our Swansea branch on 01792 620180 to find out more.
Who can apply?
From Teaching Assistants, Learning Support Assistants, Administrators, Support Staff and more, we have full and part-time jobs available for everyone looking to help.
Whilst we ideally need people who can speak Ukrainian, Russian or Slovak, if you can't speak these languages but still want to get involved, get in touch today.
Contact our Swansea branch to find out more.
Tel: 01792 620180
Email: [email protected]
‹ Previous article
Next article ›