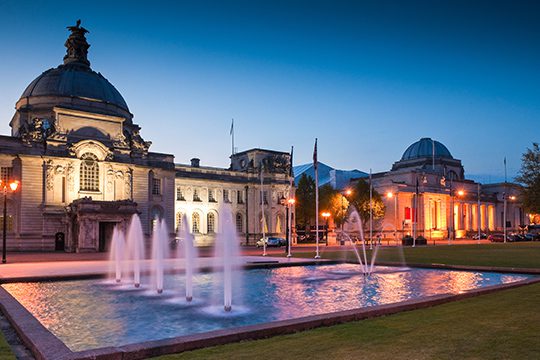 New Directions Education Cardiff is the flagship office for our business. Centrally located in the heart of the city on Bute Terrace, the office opened in 1999 and is the largest of all our recruitment businesses across the UK.
Our dedicated consultants work across south and mid Wales to recruit staff for the education sector. We also offer a wide range of training courses to support our clients and candidates.
We provide supply services to primary, secondary, additional learning needs (ALN) establishments and FE colleges for covering short and long-term supply positions.
We cover the following areas: Cardiff, Bridgend, Rhondda Cynon Taff (RCT), Merthyr Tydfil, Powys, Monmouthshire, Blaenau Gwent, Torfaen, Newport, Vale of Glamorgan and Caerphilly.
We recruit for the following positions: Cover supervisor, secondary teachers (all subjects), primary – Foundation, Key Stage 1 (KS1), Key Stage 2 (KS2), nursery nurses, teaching assistants, higher level teaching assistants (HLTA), caretakers, cleaners, lunch time supervisors, administration posts, business managers, science technicians, ICT technicians, exam invigilators, newly qualified teachers (NQTs), student teachers and additional learning needs (ALN) staff.
Fast Facts

The Cardiff office is New Directions Education flagship office

In 2018 we filled our 1 millionth supply booking!

Over 70,000 candidates have registered with New Directions Education since opening
I couldn't hope for anybody better to work with than Chloe. She always keeps me up to date with what's happening and why it's happening. I never have to worry about any part of working for New Directions and we regularly catch up with each other on what is happening. Chloe makes working with New Directions a pleasure. I love…
Chloe has been an excellent account manager. She is very professional, friendly, helpful and approachable. She has been very understanding and accommodating about my variable availability and circumstances over the year. Chloe maintains regular contact and I have found her to be very reliable. The increasing range and availability of CPD courses is a new highlight. I haven't been able…
Chloe has always been quick to reply to any query, flexible with my ever changing weekly timetable and understanding when my home life dictates when I am available. I love working at the school where I've been for four years. Prior to that I liked the fact that I was never pressured if I was unable to work. I would…
Chloe is always happy to help, and has always found long term contract work for me as I wished. Chloe is really friendly, reliable and easily contactable. My highlight has been how easy it is to get through to Chloe and how helpful she is.  All the staff on the teaching line that I have spoken to have always been…
Chloe is very easy to work with. Always professional and courteous, always happy to answer any questions I might have.  I asked for some long term placements in schools and was given that opportunity. I would recommend New Directions to anyone.