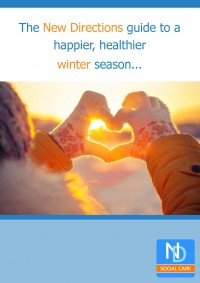 With another expected onslaught of cold weather, our team have been reflecting on what steps we can all take to protect the most vulnerable members of our community during this time. From elderly neighbours who may not be as mobile to those individuals who are experiencing homelessness.
The Social Care sector is without doubt one of the major employment groups within the UK under considerable pressure. This sector alongside healthcare work to support those individuals who need it most within society.
In previous years we have produced a guide to supporting the groups at risk during adverse weather conditions. We felt it was time to update our guidance with a brief piece that we can promote via our website and social media – so please feel free to share this information via your own social accounts and let's work together to help make a difference.
Homelessness
With an estimated 250,000 homeless people in the UK, as reported in December 2016 by the BBC – we wanted to highlight what we can do to try and help during the cold weather.
In 2017 our branch started working to support St Mungos – a homeless charity aimed at helping people re-build their lives. For two successive years we have supported a Christmas campaign to ensure that the residents within two of their hostels have enjoyed a bit of luxury at arguably one of the hardest times of the year for them. Take a look at our efforts here…
Kirsty Knowles our Branch Lead for Bristol explains more about the project 'We were asked to support St Mungo's in 2016 – specifically to help decorate a hostel in the heart of Bristol. We decided to take that a step further. We rallied the troops and our teams donated over 30 shoe boxes of gifts – toiletries and luxuries for the residents to give them a gift on Christmas Day. In 2017, we repeated the project for another of the charity's hostels. Our eyes have been opened. We would advocate anyone who spots somebody appearing to be living or sleeping out on the streets to report the sighting to StreetLink'.
Report the sighting online
By simply reporting the sighting online or over the phone, you can connect someone sleeping rough to services that will take care of them. If you're in England or Wales, alert StreetLink (online, via their app or on 0300 500 0914) of the sighting and the charity will put them in touch with local services that can support them. Alternatively, you can use their Twitter handle @Tell_StreetLink to alert the team.
Protecting the vulnerable within our community
The ageing population in the UK – those over the age of 65 has increased from 3.8%. From the 1974 figure of 13.8% of our population to the 2014 statistic when the figure hit 17.7%.
Life expectancy is on the increase, and so is mobility of people of working age. This means that often those above the age of 65 do not have their immediate family around them to help and assist at the time of the year hardest hit by bad weather. Couple this with the UK landscape and hard-to-reach communities and we are hit with stories of our ageing community being cut off from daily life. So how can we help?
Matthew Cooke, Account Manager for New Directions Social Care offers us some top tips straight from the heart about supporting individuals within our communities who might value some extra support in the cold weather:
'Be vocal and be visible – go check on those neighbours who might not have as much mobility during the cold snap. Even if they are getting their groceries delivered to avoid the dangers of the icy weather, they may still value some human interaction. It could make a great deal of difference to their day. If you have cooked too much food – drop by with the extra bowl of chilli. It really is important that we stand alongside our most vulnerable and support them through until the hallowed sun appears once more'.
New Directions Social Care works to support the provision of staff to the most invaluable of our sectors. We are always keen to speak with individuals who are looking for a new career. Take a look at our latest vacancies here…
Some useful stuff…
These links may also be helpful during any cold snaps:
Citizens Advice Consumer Service 0345 404 0506 www.adviceguide.org.uk
Energy Saving Trust 0300 123 1234 www.energysavingtrust.org.uk
Floodline 0345 988 1188
Gas Safe Register 0800 408 5500 www.gassaferegister.co.uk
Green Deal www.gov.uk/green-deal-energy-saving-measures
Home Heat Helpline 0333 300 66 www.homeheathelpline.org.uk
NHS 111 111 https://111.nhs.uk/
NHS Choices www.nhs.uk
Age UK 0800 169 65 65 www.ageuk.org.uk
Age Cymru 0800 022 3444 www.agecymru.org.uk