Wrexham Office Support Local Head Teacher
New Directions Education Ltd is lending its support to two of its teachers who are running the London Marathon on 21st April 2013.
The duo from Darland High school includes Peter Agnew who is the Head teacher and George Morris who is an English Teacher at the school. The pair will be joining thousands of runners who will be running to raise money for charity.
New Directions Education in Wrexham has worked closely with the school for over five years, and also has close links with Barnardos which was chosen as one of the charities the pair would be supporting. New Directions pledged their support by donating £100 and also donating a running vest.
Sam Pilling account manager at New Directions Education commented 'When Mr Agnew mentioned that he was running the London marathon this year I felt compelled to get involved and help as the marathon is a wonderful event which helps raise awareness and money for many charities'
Sam went to visit the school to present the running vest to Peter (pictured) who is also taking part in two more marathons this year. Peter stated 'I am delighted with the support from New Directions Education; I will be wearing the running vest for all three of the marathons that I am taking part in this year. The donation of £100 will also go a long way to helping George and I reach our £1,500 target'
To support Peter and George in their efforts please visit their just giving page https://www.justgiving.com/George-Morris1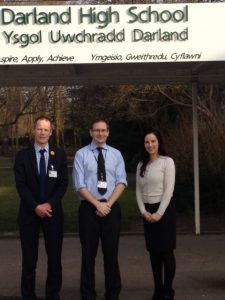 ‹ Previous article
Next article ›