Tranmere U13 Tournament Culminates in a Close Fought Final
Wednesday 20th November saw the culmination of the  U13 Tranmere Rovers Tournament which was again sponsored by New Directions Education.
The final was an exciting match between Weatherhead High School and Prenton High School.  The weather forecast for the final was very cold, wet and windy and for once the weather forecasts were right!
Sean Peloe, Account Manager at New Directions Education commented, " It was absolutely freezing and pouring with rain! But girls just got stuck in and played fantastically regardless of the horrible weather. The result of the match was Weatherhead winning 2-0.  Although the Prenton girls were beat they played incredibly well".
Steve Taylor, PR Manager for Prenton High School remarked, "We are extremely proud of our girls,  they give it their all. All of our girls thoroughly enjoyed the whole event and we are looking forward to any future tournaments. We would like to wish Weatherhead the best of luck for the rest of the tournament".  The Prenton girls had actually beat Weatherhead earlier on in the tournament so this was a very exciting rematch!
The winning Weatherhead girls will represent Tranmere Rovers in the Regional Area Finals in Shrewsbury in the New Year.   Weatherhead High School released a news article regarding the girls victory and stated, " If luck holds out they will proceed to the Wembley Finals which will take place at Wembley Stadium in April 2014. This is the second consecutive year that Weatherhead's Under 13 Footballers have trodden this Wembley path, so fingers crossed for our girls who are proudly demonstrating that females have footballing talents that can take them far!"
New Directions would like to congratulate and thank all the schools that took part in the tournament and would like to wish Weatherhead High School the best of luck for their progression to Shrewsbury and possibly even Wembley!!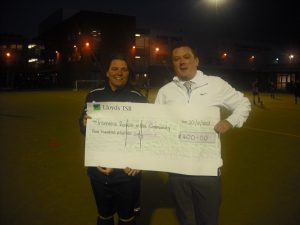 Sean Peloe, Account Manager for New Directions presenting the sponsorship cheque
‹ Previous article
Next article ›