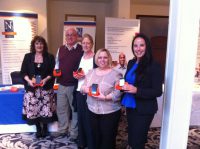 New Directions Education attended the 'All Wales Special School Headteacher Conference' on the 8th and 9th of May, following an invitation from Maxine Pittaway Head of St Christopher's, Wrexham.
The two day conference was an opportunity for Head teachers across Wales to talk about the issues facing the sector, over 30 delegates enjoyed the hospitality at the St George's Hotel, Llandudno, with New Directions Education providing refreshments for the attendees.
Rob Ratcliffe, Business Development Officer who attended the event with Sam Pilling, Senior Account Manager on behalf of New Directions commented " the event was an excellent opportunity for Head teachers across Wales to meet and share ideas, we met with Head teachers from schools we work with and also prospective schools who we look forward to building a close relationship with. New Directions Education has been working within the education sector for nearly fifteen years in that time we have worked hard to understand the needs of our schools and provide them with high quality staff".