Liverpool's November Employee of the Month with a twist!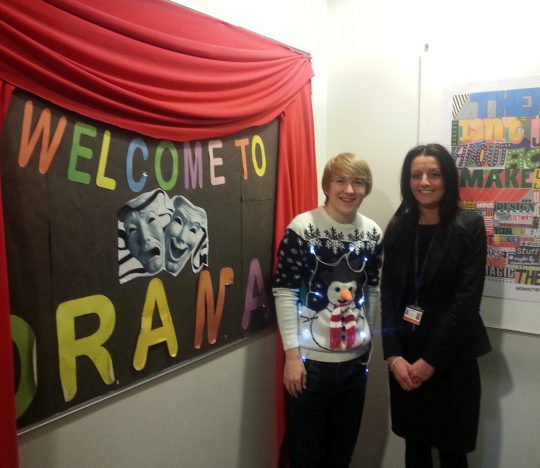 We are delighted to announce that the winner of November Employee of the Month is Les Williams!  Les was nominated by Diane Moore from Hope Academy, Newton-le-Willows.  Les was one of many outstanding nominations that we received from schools in Merseyside, Cheshire and Lancashire. 
We would like to congratulate all nominees and thank them for working so hard.  Furthermore, we would also like to thank all the schools who took the time to nominate.  New Directions is very proud of the nominees and Les particularly stood out due to the fantastic rapport he built with the teachers and most importantly the children he taught.  Diane commented. "I had excellent feedback for Les after he came into school to teach Drama and we have asked for Les back since by name.  He slotted straight in and the rapport he built with the kids was outstanding.  The kids actually went to the Head of Year after the class and commented on how much they liked him and that he made the lessons really enjoyable and fun.  The feedback from the Head of Year was also excellent as he went over and above the normal duties of supply; he spent a lot of time at home preparing lesson plans which were very successful in class."
Emma Joyce, Account Manager at New Directions Education added, "The feedback I received about Les was fantastic and really demonstrates the importance of engaging with the students to maintain motivation and continue to raise levels of achievement.  I am very proud to work with Les, he is an excellent representative for New Directions, thank you Les!". 

Whilst on site at Hope Academy, Emma Joyce met Head Boy Jack Beswick who has recently applied to the Central School of Speech and Drama in London to study Drama and Theatre Studies.  Jack spoke very highly of Les Williams and commented that Les had actually helped him fill out his application to the London University as Les had attended the university himself.  This rapport that Les built with the children at Hope Academy is one of the key reasons for Les winning the title of Employee of the Month.  We are very proud to have such an excellent candidate working through New Directions Education.
‹ Previous article
Next article ›