Giving Back Days: New Directions Education volunteers for netball tournament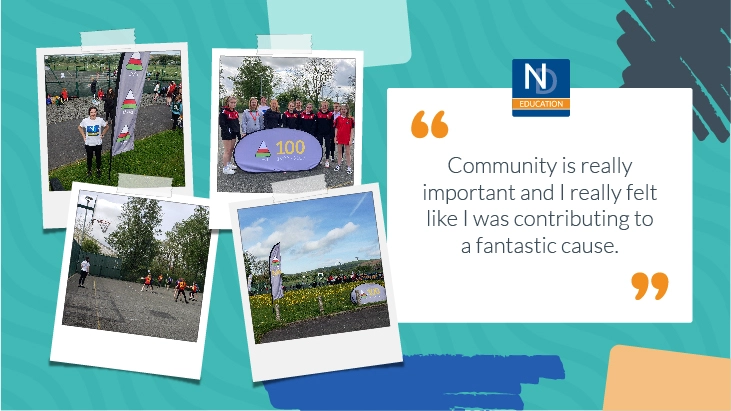 New Directions Education's employees are volunteering their time to good causes in local communities as part of our new 'Giving Back Day' initiative.
Catrin Reed, one of our dedicated Recruitment Consultants, was quick to find her trainers and whistle to be one of our first employees to use her 'Giving Back Day.'
A lifelong netballer, Catrin has a ton of experience to pass on and she spent the day umpiring a tournament for school children from Ceredigion.
The day was organised by the Urdd Gobaith Cymru, the National Voluntary Youth Organisation, and it took place at Ysgol Gynradd Pontrhydfendigaid.
Catrin said: "My mum was a Netball Coach and Primary School Teacher, so I've played it for as long as I can remember. I was in training with my team and one of my teammates, who is a teacher, mentioned they had a shortage of umpires.
"I used to umpire for the tournaments in Pembrokeshire when I worked for the Urdd many years ago. It made sense to me to volunteer to bring together a sport that I love and the schools that have treated me so well since I started at New Directions almost a year ago. It was great of Custom Cymru Aberystwyth to print a special New Directions t-shirt, too.
"I know how beneficial netball can be for children to make friendships, grow their confidence, and have fun. It was a really busy day and I loved it, especially when the sun came out. We had two courts with two umpires each and a 20-game round-robin.
"Not all of the pupils play netball regularly, so I was helping to coach them, too. It didn't take long for some of the children to get competitive and I was really glad I could help them to develop a passion for netball. Sport plays a huge part in learning life lessons and I'm looking forward to visiting some of the schools to provide more regular coaching.
"For many of the children, it was the first activity they'd done with other schools since the coronavirus (COVID-19) pandemic began in 2020. I speak to a lot of the teachers every week to help with their staffing needs, so it was great to finally meet in person and start putting faces to the names. Community is really important and I really felt like I was contributing to a fantastic cause. We could've made a decent team out of the teachers that were there, too!"
The Urdd is 100 years old and has more than 55,000 members aged eight to 25 years old. They provide opportunities for children and young people to socialise through the medium of Wales and enables them to make positive contributions to their communities.
Benefits of working at New Directions
'Giving Back Days' are one of the many perks of working at New Directions.
We aim to be an employer of choice, and our approach to constantly looking for ways to improve the employee experience is reflected in the latest benefit to be added to our generous employee benefits package. If you're interested in working for us and you'd like to see what other exciting benefits are on offer, then see what vacancies we currently have.
We aim to be an employer of choice, so we regularly ask our employees what they want to see in their benefits package. We've listened to what they value and it's reflected in our offer.
‹ Previous article
Next article ›